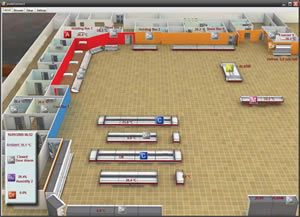 JouleConnect is software which allows you to view all your JouleTemp and JouleAlarm controllers in a single, integrated software environment which you can easily tailor to your requirements.
The main panel shows the layout of your site and data is updated automatically from the Joule controllers.
Click an icon and you switch to the browser window for the selected control.
On the main page you can setup links to a full range of detailed information from each controller – live readings, status as icons or text, settings.
Simple, clear and easy to use! JouleConnect installs on your Windows XP or Vista PC quickly and requires an activation code to access multiple controls but the free version will monitor a single control.
Download JouleConnect Software JouleConnect Software (Free Version)