AVR technology reduces power consumption by reducing building supply voltage to a stable 220VAC from the incoming voltage, which can be significantly higher than required. AVR is a tried and proven technology. Kinetic AVR moves the game ahead with an infinitely variable and real time response – competing systes are less optimal with fixed-step changes. Kinetic can also BOOST voltage in brown-out situations, with a rated range from 216V to 253V.
By reducing stress and self-heating of electrical equipment Kinetic AVR will extend equipment service life, whilst still operating within design parameters. Lighting, electric motors and many other types of equipment run much cooler at reduced voltage.
See a video of Kinetic AVR servos in action controlling voltage here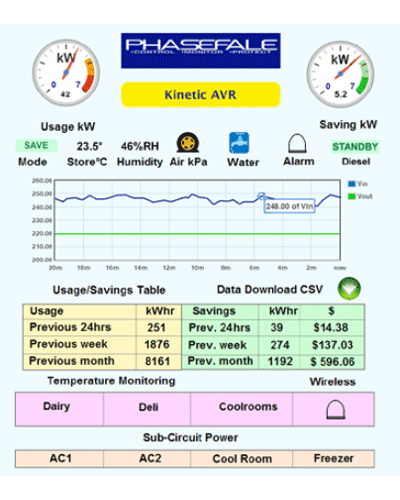 Kinetic AVR features a web-based "virtual instrument panel" so you can monitor your power consumption from anywhere in the world. With customization, a host of other critical processes in your building can be monitored, including temperatures, humidity, air, water pressures, water consumption and sub-circuit power consumption. Data collected is available n CSV format for futher analysis and storage.
Kinetic AVRs come in a range of sizes to suit the electrical load. Larger unites are also available.
| | | |
| --- | --- | --- |
| AVR Rating | Rating kVA | Rating kW |
| 63A | 45 | 41 |
| 100A | 72 | 65 |
| 150A | 108 | 97 |
| 200A | 144 | 129 |
| 300A | 216 | 194 |
| 400A | 288 | 259 |
| 500A | 360 | 323 |
To witness Kinetics AVR "virtual instrument panel" contact Phasefale for URL and instructions.
Approvals: Complies with AN/NZS 61000-6-3:2010 (C-tick) and AS/NZS 3820:2009
Why Phasefale Controls?
Phasefale is an established AUstralian designer and mnufacturer of control and alarm systems since 1980. We have teamed up with leading international manufacturers to deliver AVR solutions.